As the name suggests, Seniorpeoplemeet, if you are someone in your late 40s or 50s and are looking for a good life companion, then this is the site for you. It is never too late to find love. This website has now merged with ourtime.com. Seniorpeoplemeet is launched by people media who have also launched another website called blackpeoplemeet. The website's basic concept is to help people connect with others in the same age group in their 40s or 50s and are divorced or are a single father or a single mother or even those who have never married before join this community for a good time. Seniorpeoplemeet website allows senior people to receive and give love to the people they meet online. The website also serves as a platform to form beautiful bonds that can turn into something more serious.
There is no age limitation when it comes to finding love. Some people find their better halves in their early years, and some people find it later on. However, those who did not find their partners in the early years now can find a serious relationship over this website. The website is made so that single seniors can connect with other single seniors.
How Does It Work?

Using theSeniorpeoplemeet website is pretty simple and does not require you to fill out time-consuming forms or applications for connecting with others. The website is not just for creating romantic relationships or companionships with others; you can also use this website to form long-lasting friendships or travel buddies with whom you can travel the world. Since this website is primarily for the people in their 40s or 50s, it is effortless to understand. The website's working is pretty simple- it allows you to register yourself on the website and connect with people with common interests, hobbies, or other like-minded people.
Moreover, the common language that is used to interact with others on the website is English. You can easily create your profiles on the website and share photos, interests, and hobbies.
The website users can connect with others by choosing one user out of the two pictures that are shown to them on the website. The user can select the option of interested in the connections they like and have the option of skipping both profiles by choosing the skip option. This way website shows different matches to a user according to the distance, location, or the age group the user has set. Moreover, the Seniorpeoplemeet website has certain features that can help to streamline your searches even further. You get features like searching according to specific categories such as gender, location, children, zodiac signs, relationship expectations, religion, etc. The users of Seniorpeoplemeet also can view the profiles of users who like or view your profile. And the website shows 11 suggested matches to a particular user.
An unpaid member of the website can check out different membership plans as only a paid member of the website can communicate with the matches with a chatbox's help.
Registration

The registration process is pretty simple and takes up around 3-5 minutes for the whole registration process. Check out the whole procedure that you can follow to create your profile and register on the website.
The first step is registering on the website by writing your email and creating a password for your profile.
After registering, you need to fill out the necessary details. The first question asked is who you are and who you are looking for. This question involves your gender and the gender of the user you are looking to connect with.
The next questions that follow are simple, and you need to fill out the following types of questions:
Describe yourself by providing your details on the website like gender, age, hair colour, body type, height, eye colour, etc.
Write down your interest and hobbies. Write down all the things that you love doing. For example, if you love swimming or singing, you can write down, "I love to swim and sing."
Write down your characteristics or traits that define you. This section involves writing about who you are as a person. For example, some features can be friendly, easy going, extroverted, etc.
You will also be asked optional questions like your smoking or drinking habits, whether you are single or divorced, the number of children you have, or the country or place you belong to. This information is strictly optional, and you do not need to answer them if you do not feel comfortable.
And then, after filling out your details, you have the option of uploading pictures on your profile that can be visible to other users. You can upload a maximum of 30 photos according to Seniorpeoplemeet reviews.
After filling out the above details, you can write down a short description of your profile that will be visible to other users who visit your profile. This bio is called the greeting that the users can read. This part of your profile needs to be catchy and attractive, as you must write a lovely greeting for your profile to get more people to visit your profile. Some examples of these greetings can be "Nice to have you here" or "You made the right choice." The more-catchy your greeting is, the more users will try to engage with your profile.
You have two options for joining the Seniorpeoplemeet website. The first one is unpaid membership, and the other is the paid membership. So if you opt for the unpaid membership, some website features are limited for you, whereas the paid membership gives you access to all those features. However, at first, you need to register as an unpaid member of the website. Later on, you can buy a membership.
After registering and filling out all your details on the website, you can review your whole profile where all the information that you provided can be edited once again if needed.
You can now freely browse through the website for other users and can connect with them easily. Moreover, the website also suggests matches for you.
Messaging

The users of the Seniorpeoplemeet website can easily browse through a vast number of users on the website. A user has to be a paid member to use the messaging feature of the website as free membership of the website cover only basic features and cannot use features to view the video greetings of other users; you cannot see who has put you in their favourite's list or have flirted with you. A flirt is nothing but a notification that a user sends another user if they are interested. This feature is only available for paid members. The most important feature that a non-paid member cannot use is the messaging and live chat feature.
However, suppose you have a paid membership on the website. In that case, you have access to all the website features where you can easily send and receive messages, watch the video greetings, and use special messaging idea features. You can also use an audio messaging element to talk with the other user.
The messaging on the Seniorpeoplemeet website is not done through simple or the regular chat windows that we usually use. But the website uses an email-like system on the website. The reason behind this is that the users can think of their responses and take up their time before entering the send button.
Another essential thing to know about the website's messaging feature is that only a paid user can connect with a user who is also a paid member of the website.
Some impressive messaging features that are being offered to you by Seniorpeoplemeet are:
The website has made it pretty simple and easy for the users to connect and message people on the website. You are getting the option of message ideas that you can use. You can either send them the exact message suggestion or rephrase the message idea and then send them. These message ideas help the user in keeping the conversation going and interesting. It would help if you kept the conversation interesting. Otherwise, the person who you have matched with could get bored.
The website is also offering you already framed questions that can help break the ice among two users. These icebreakers can help the users get out of their comfort or shy zones. That is why the Seniorpeoplemeet website provides the users with some already framed questions to ask your matches for an exciting conversation. Some of these questions for icebreaker are:
What would be your ideal first date?
Which places in the world would you love to visit?
What are you passionate about in life?
If you send these icebreakers to the people you match with, you have better chances of getting replies from them after they read your icebreaker questions. These questions help the users who are shy and cannot keep the conversation going.
Moreover, if you are a paid member of the website, you also can pay $1 extra to rank yourself higher in the search. This way, more users of the website can see your profile, and if they like you, they can connect with you.
Member Search

The website offers users a free search tool accessible to both paid and unpaid members of the Seniorpeoplemeet. The users can use this search bar to look and browse through other user's profiles.
The users also can filter the search result, which then shows the users who are currently online or are new on the website. This is a great feature that allows users to connect with online users instantly.
There are two types of searches that the website offers its users. The first one is a basic search available to all, irrespective of whether they are paid or unpaid members. The basic search does not allow you to use filters. Simultaneously, there is an advanced search where you can use filter to streamline your search results. The filters of this advanced search are as follow:
You can set an age limit of users that you would like to match with.
You get the option of selecting the location and the range of the users shown to you.
You can opt for marital status.
You also can choose the height and general build of the user you want to see.
Moreover, the users can also play the "I am interested game" that lets you swipe the user's profile if you find them attractive or like their profile. The user whose profile picture you swiped gets a notification, and if they like your profile too, they can swipe back, and it is a mutual match.
Mobile Applications

The Seniorpeoplemeet website also offers a mobile application to its paid users. All the features of the website are now accessible through a mobile application. The mobile application is readily available for both android users and iPhone users. Instead of going to a web browser to visit the website, the users can now download the Seniorpeoplemeet mobile application on their phones.
The same features and functions that a member use on the website can now be used with this mobile application. If you doubt the icon and text visibility on a small screen, you must know that the text fonts and icons are very clear on the mobile application.
The mobile application is designed for easy usage and handling. A website member can easily access the whole website on their phones by downloading the mobile application. You can now download the mobile app of the website on your phones. It does not matter what phone you are using as the mobile application is available for Android and iPhone users. So if you have an android phone, you can get the mobile app from the play store, and if you are an iPhone user, you can get it from the apple store.
The working of the mobile application is the same as the website. You get all the same features and functions as provided to you on the official website of Seniorpeoplemeet. You need an internet connection to go online on Seniorpeoplemeet mobile application. You can easily use the search option and view other users' profiles right on your mobile screen.
Special Features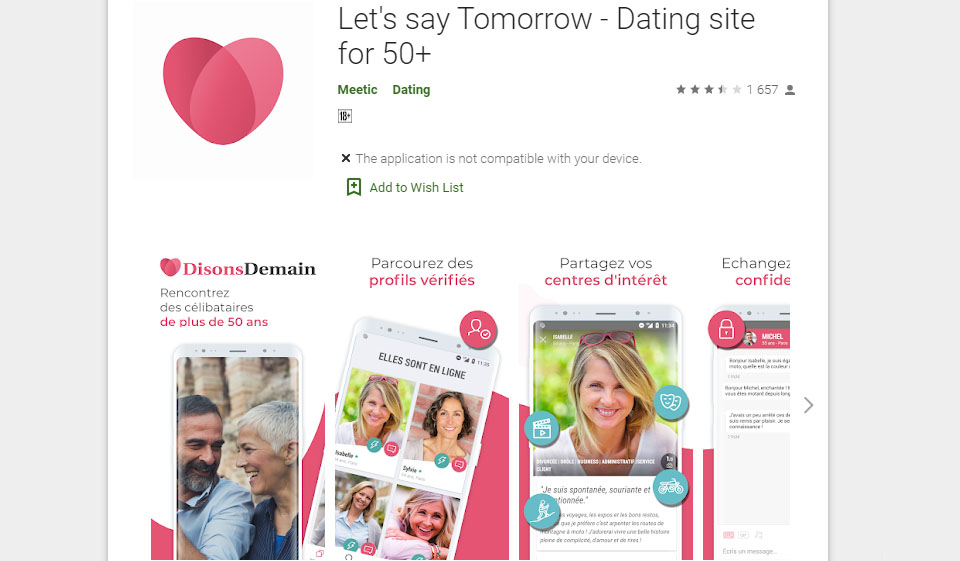 The website offers different features for free members and paid members of the website. Different features of the website that are available to the users are as follows:
Free registration
All the website members can register free on the website and opt for different membership plans later on.
Personal details
Every member can fill out their details on the website that can help other users know you with the help of some details.
Greetings feature
The website offers a greeting feature that allows the users to see a greeting message on the top of your profile. These greetings can be a few words or a small sentence. It does not involve paragraphs.
Personal essay
However, if you do not believe in a simple greeting, you can even opt for the personal essay feature to describe yourself more elaborately. This personal essay will include a paragraph answering the following sections:
The user can write a little about themselves in the about me section.
The user can then mention what they are looking for; this section will involve the ideal person that you are looking for and what qualities you are looking for in your perfect partner.
You can also write about your likes, dislikes, and other attributes to help other users get to know you better.
Wallpaper and icon feature
The website gives you the option of selecting from a vast range of wallpapers and icons that you can use to make your profile even more attractive.
Adding pictures to your profile
The website allows a user to add around 30 photos on his/her profile. Therefore, you can easily add pictures of yourself on your profile visible to the users who visit your profile.
Audio and video greetings
This is a feature available for paid members of the website. In addition to adding your pictures on your profile, you also have the option of recording an audio greeting so that other users can listen to your audio greeting to know how you sound. You can also upload a video greeting that allows you to upload a short clip of yourself if you want. You can greet the other users that visit your profile with that short video greeting.
However, this audio and video greetings can be only be accessed by the paid members of the website.
Search feature
The primary search feature of the website is available to all the users irrespective of their membership plan. However, there is an advanced search feature for all the paid members that allows the user to use filters like age, location, height, body structure, and many more options to streamline your search results.
Flirts feature
There is a flirt feature on the Seniorpeoplemeet website that is available only for paid members. This feature allows the users to send a flirt notification to other users; if the other user is interested in you, then he/she can send a flirt back or message you.
Favourites
The website offers this impressive feature called the favourite feature that allows the users to bookmark or put the other users on their favourite lists. This feature is again for the paid members.
Messaging feature- live chat, audio chat, and sending videos.
This feature allows users to interact with each other using the email-like-system, or they also have the option of selecting the live-chatting. This way, users can develop strong bonds with their potential matches. The website's paid members can even send audio chats to their matches if they don't wish to type the text messages. Moreover, the members can also send videos to their matches in their chat box.
Virtual gifts
The website also allows its paid members to send virtual gifts to their matches.
Cost And Prices

If you a free member of the Seniorpeoplemeet website, you can check out the membership plans and get access to all the website features. The membership plans are as follows:
One month membership- if you are new on the website, you can start by choosing the one-month membership plan, which is $30 per month. But this plan may be a bit expensive for some users.
Six-month membership/subscription- There are two options under the six-month membership plan. It is as follows:
The Standard six-month plan involves $15 per month for six months; your total comes to be $90 for six months. However, you would not get the profile highlighting and the mobile application usage feature in this plan.
Value six-month plan- This plan's cost is $17 per month; the total comes to be $102 for six months. In this plan, you get full access to features like profile highlighting and mobile application usage.
Tokens- if you do not want to buy a membership plan, then you can purchase tokens in bulk that you can use to purchase certain features of the website. The cost of these tokens are as follows:
You pay 10$ for 280 tokens
4$ for 110 tokens
1$ for 25 tokens
You can select any one of the options mentioned above if you want to access all the website features.
Alternatives
Some other similar websites to the Seniorpeoplemeet are also created for the seniors in their 40s or 50s. Some of them are:
Loveagain.com- This is a similar website where seniors can find their potential matches by connecting and talking to each other.
Seniorfriendfinder.com- This is another similar website to Seniorpeoplemeet that seniors prefer to find their better half.
Security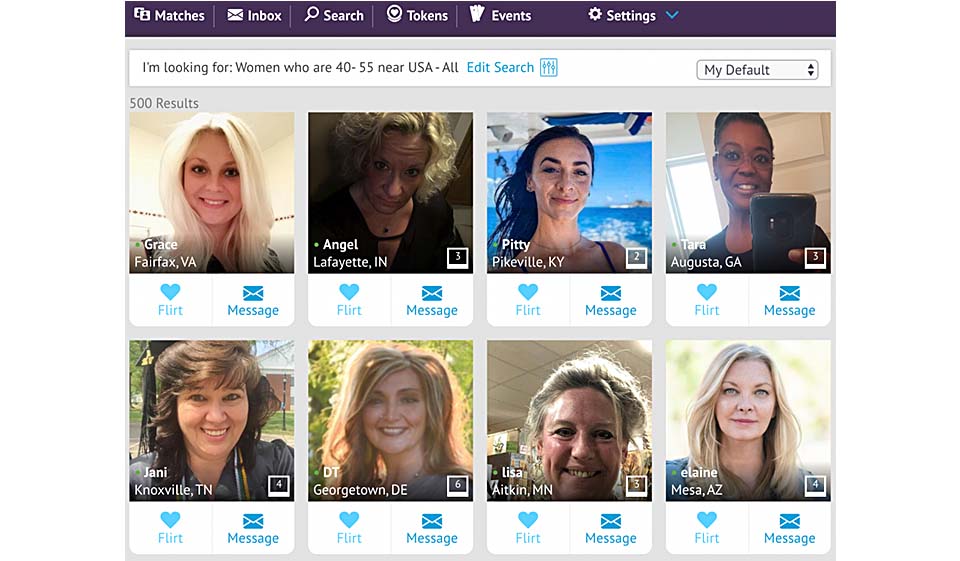 The Seniorpeoplemeet website follows strict security measures to protect you from spam users or accounts who are just there to disturb you. The website gives you a feature of blocking and muting certain users who you think are disturbing you. You also get the option of turning off your online status, which means even if you are online, the other users will not see your activity status.
What Protective Measures Does Seniorpeoplemeet Take To Keep My Data Safe?
The Seniorpeoplemeet website takes extensive measures to keep your data safe. The website provided a huge guide of online safety tips that you can read on their official website. It is the top priority of the website to protect the user's data and other information. Your conversations are highly confidential and stay between you and your match.
Conclusion

The Seniorpeoplemeet is an amazing dating website that gives senior people a second chance at love. This is a great website that is suitable for single, separated, divorced, or widowed seniors. All types of relationships and gender are allowed on the website. It does not matter if you are gay, bisexual, lesbian, or straight. So if you follow the dating and the safety tips of the website, you can find an amazing partner or a friend for yourself. The sign-up process is very easy; give this website a go-to know for yourself.